THE OFFSEASON addition of Takeo Spikes and the subtractions of Dhani Jones and Darwin Walker means the Eagles will open the season with at least three new defensive starters.
Spikes has been penciled in at weakside linebacker. Chris
Gocong is the front-runner to replace Jones on the strong side, and assuming he doesn't get lost on the way to Lehigh, 2006 first-round pick Brodrick Bunkley will be Walker's starting replacement at right defensive tackle.
But don't discount the possibility of that list of new starters growing by two before the Eagles check into their hotel in Green Bay for the Sept. 9 season opener against the Packers.
While defensive coordinator Jim Johnson said the other day that Jeremiah Trotter still is the team's starting middle linebacker, his inclusion of the words "right now" made it clear the four-time Pro Bowler is going to have to prove this summer that he still deserves the job.
With Spikes taking over at WILL, second-year man Omar Gaither, who did a solid job there after replacing Matt McCoy in early December, will move back to the middle. Johnson said
Gaither will be the team's MIKE linebacker in its nickel package, but also will be given a shot at beating Trotter out for the starting job.
Then there's the right cornerback position. Right now, that job belongs to Sheldon Brown, who has been the starter there the last three seasons. But keep your eye on William James, who is gaining ground on the outside.
Johnson is very high on James, a former Giant who was one of the league's better young corners before injuring his back 2 years ago. He called him the key to his secondary the other day. Not "a" key. "The" key.
Right now, James, who signed with the Eagles last November but played in just four of 10 games because of injuries, is listed as the team's third corner behind Brown and Lito Sheppard.
But Johnson has told both Brown and James, who signed a new 1-year deal with the Eagles in March, that this is going to be a may-the-best-man-win situation this year.
"William is a guy who can start," Johnson said. "When he played last year, he played well. We just didn't get enough out of him as far as being healthy on the field."
Asked whether James will be given an opportunity to beat out Brown this summer, Johnson said,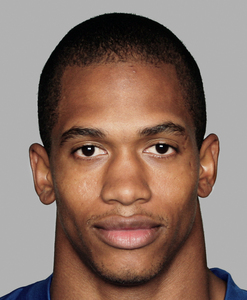 "I think [James] is a
starting [quality] cornerback. Anytime you get that
kind of
competition, sure, he's going to push the other guy.
"But
Sheldon's a good corner. We expect Sheldon to have a good year. But the best
players are going to play.''
Brown has had his ups and downs the last two seasons. Johnson moves him inside on passing downs and he has been very effective in that role, but he doesn't seem to be nearly as confident on the outside.
There has been speculation that the Eagles might consider moving him to safety at some point in the future, perhaps after Brian Dawkins retires. Last year, Johnson often had him playing deep in some of his coverage schemes. While he's only 5-10, Brown is solidly built and can
deliver a good blow, as Saints
running back Reggie Bush found out in the playoffs.
"I haven't thought that far down the road," Johnson said.
"I still think he has good corner ability right now. He might not be able to make that transition.
A year down the road, maybe I'll think about it. Right now, I'm not thinking about it."